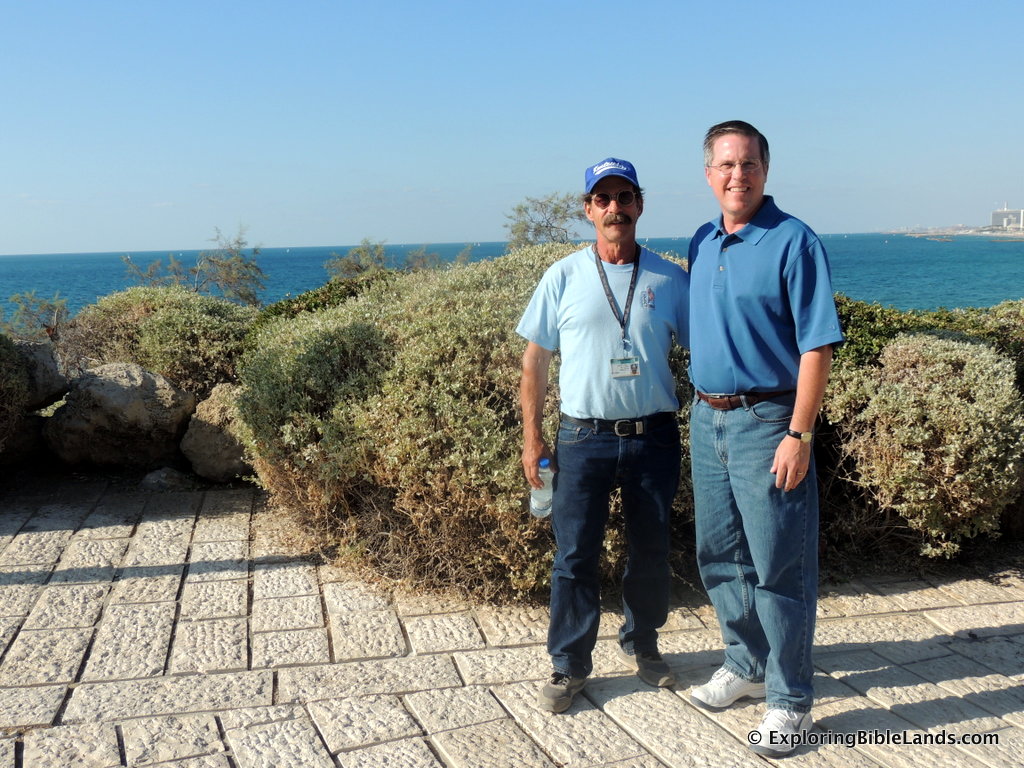 A little over four years ago, my wife, Tabatha and I made our first trip to Israel. While we were there, we met a gentleman by the name of Eliemelech Ben Meir (everyone called him "Elie"). We were on a tour led by Ferrell Jenkins and Elie was our Israeli guide. I will admit that my first impression of him was not a positive one. He greeted our group with a worn-out ballcap, an untucked shirt and sneakers that had way too many miles on them. All in all, not someone that I was interested in following for the length of the tour. Then, I opened my ears and listened to him.
He was warm and kind. He loved to laugh. He loved to tell jokes. He loved to talk about the land of Israel. He knew the Bible stories. And he helped us learn the relationship between the land and the Bible. He worked very well with Ferrell. By 2010, he and Ferrell had been working together for over ten years. They had mastered the "give and take" and they knew what the other one was thinking. Elie knew that at certain places (Caesarea Philippi comes to mind), Ferrell had something special to say to the group. So, without being prompted, he would make a few remarks and then turn the floor over to Ferrell.
During that tour, we spent three days away from Elie while touring the kingdom of Jordan. Upon our arrival back in Israel, Elie boarded the bus, grabbed the microphone and said, "Welcome back, ladies and gentlemen!". The entire bus cheered. Our Jordanian guide had been good, but he was no Elie.
I have always had a passion for the Bible and for geography. But, it wasn't until that tour in 2010 when I finally put the two together. After returning to the United States, I began intensely studying and restudying passages of scripture in the light of my new found knowledge. I was fortunate enough to be asked to preach some lessons and teach some Bible classes in which I would be able to use that knowledge to help others.
About two years ago, I decided that I wanted to try to teach others about the land of Israel by leading tours. On two different occasions, I drove from my home in Alabama to Temple Terrace, Florida to sit down with Ferrell and ask him a number of questions about it. He was kind enough to patiently answer every single tedious question. I traveled back to Israel in 2012 to learn more about the land and to talk to people over there that would be involved in my tour. Of course, I wanted to talk with Elie.
We arranged a meeting at the hotel where I was staying. When I arrived at the picnic table on the shores of the Sea of Galilee, he had a bowl of fresh dates to share with me. For nearly two hours, we talked about the land of Israel and about tours. We were able to talk about the type of tours that I wanted to lead and what I wanted to accomplish in them. Elie was thrilled to help and couldn't wait for the first one to occur.
Since then, Elie and I became good friends. We traded emails and discussed similar interests. As part of his qualifications to become a guide, he had to become a semi-expert in Israeli weather. My wife and I both received our degrees in Meteorology from Florida State University. Elie and I would talk about the weather and the land and how they relate to the Biblical accounts. On a couple of occasions, he would send me pictures when Jerusalem received snow or some other weather event.
During the past six months, Elie and I have traded a number of emails about my upcoming tour. I was excited about the tour and he was excited for me. The two of us worked on different scenarios to help our travelers have an unforgettable experience.
On May 10th, I received an email from Elie that said:
Hey Barry! I am glad that all is well and I am looking forward to your arrival! ... See you soon, Elie
The very next day, while visiting his family in Cleveland, Elie suffered a massive stroke.
Three days later, I received an email from his wife, Maxine. In it, she explained what had happened and to call her immediately. As we spoke, it was obvious that she was still in shock over what had happened, but she was kind enough to answer my questions.
Over the next week, Maxine and I traded a few more emails. The tone of the emails were sad and they did not sound encouraging. Last Saturday, I received an email that I had been dreading for over a week:
So sorry to have to bring you the sad news that Elie passed away on Friday night 11:30pm. He died peacefully with all his siblings, daughters and myself by his side. Much love to all Maxine
I was heartbroken. I had lost a friend. And, I didn't even get a chance to say goodbye.
On Tuesday, I will lead a wonderful group of people and we are going to tour the land of Israel. I have a new guide and we have traded a number of emails. We are sad for the situation that has thrown us together, but we are both looking forward to the opportunities that lay in front of us. It will be a great tour.
But, I will miss my friend.
Goodbye Elie.
(NOTE: I also encourage you to read other blog posts by Ferrell Jenkins and Steven Braman about Elie.)