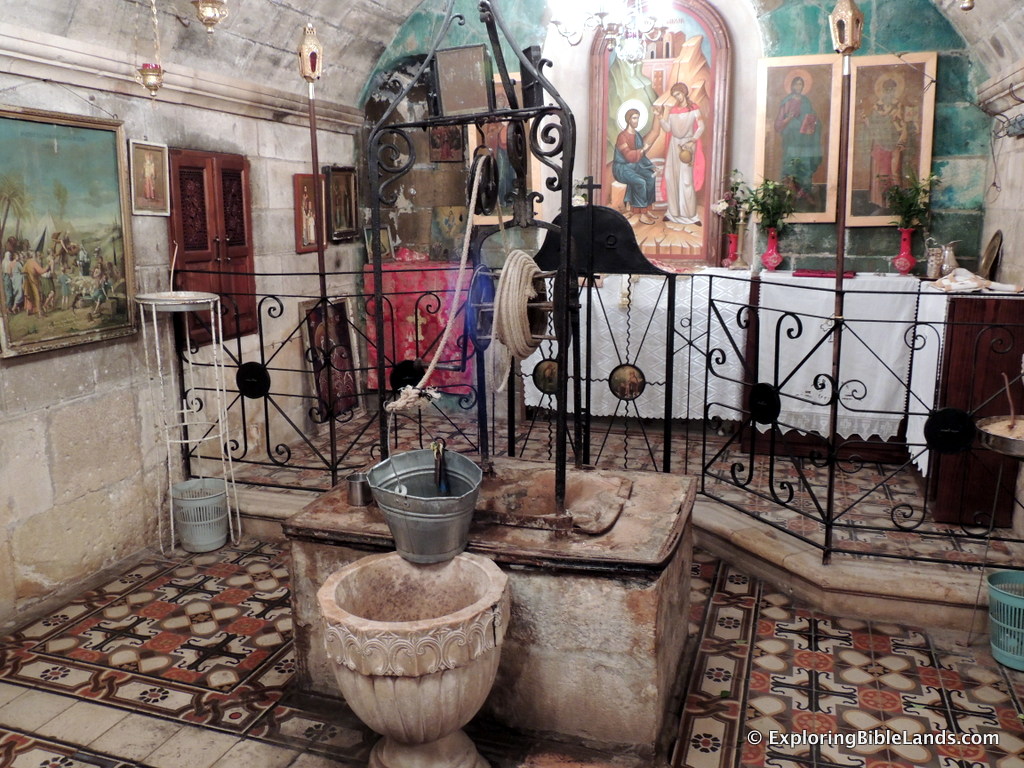 Last year on January 1, I showed a picture of a reconstructed First Century synagogue in Nazareth. Jesus read the Scriptures from a synagogue in Nazareth that was similar to this. The resolution was to look at the example that Jesus gave and to take every opportunity that we can to read the Scripture. This year, I want to show a different picture. The picture at the top of this post of is of Jacob's well in modern day Nablus (near ancient Shechem). The well can be accessed by entering the Greek Orthodox St. Photini Church at Bir Ya'qub monestary. Once you are in the church, you can descend some steps to a small crypt where the well is located. While you can not be 100% sure, there is fairly significant geographical and historical evidence to say that this is the actual well that was dug by Jacob. (Of course, until recently, this well would have been outdoors and not in a cramped small room.)
In John 4, we read the account of Jesus stopping by this well and speaking with a local woman who had come to draw water.
Now when Jesus learned that the Pharisees had heard that Jesus was making and baptizing more disciples than John (although Jesus himself did not baptize, but only his disciples), he left Judea and departed again for Galilee. And he had to pass through Samaria. So he came to a town of Samaria called Sychar, near the field that Jacob had given to his son Joseph. Jacob's well was there; so Jesus, wearied as he was from his journey, was sitting beside the well. It was about the sixth hour. A woman from Samaria came to draw water. Jesus said to her, "Give me a drink." (For his disciples had gone away into the city to buy food.) The Samaritan woman said to him, "How is it that you, a Jew, ask for a drink from me, a woman of Samaria?" (For Jews have no dealings with Samaritans.) Jesus answered her, "If you knew the gift of God, and who it is that is saying to you, 'Give me a drink,' you would have asked him, and he would have given you living water." The woman said to him, "Sir, you have nothing to draw water with, and the well is deep. Where do you get that living water? Are you greater than our father Jacob? He gave us the well and drank from it himself, as did his sons and his livestock." Jesus said to her, "Everyone who drinks of this water will be thirsty again, but whoever drinks of the water that I will give him will never be thirsty again. The water that I will give him will become in him a spring of water welling up to eternal life." - John 4:1-14
So, what is this new year's resolution? How about this: Let's take every opportunity that we can to talk to people about Jesus. Did Jesus plan His entire day forcing this opportunity to happen? I don't know. But what I do know is that he did not let the opportunity pass when it was offered to Him. He saw the woman coming and He saw the water. He then created an opportunity to talk to her about things that she needed to hear.
Let us all strive to see opportunities and to not let them pass by.
Happy New Year, everyone!
Do you want to travel to Israel and see great sites like this? I would love to have you join me. Take a look at the trip details and contact me for more information.